Get Ready for the Gatineau Loppet!

By: XC Ottawa
(2015/02/09)
This weekend, six XC Ottawa athletes are racing in the 37th Gatineau Loppet, the biggest cross country ski event in Canada. The first running of the race was in 1978 in the Lachute region, over 100km northeast of its current location (the race was named "Riviere Rouge" for the Red River of the same region). The event has grown over the years, and now features eight races over the course of 2 days, and uses more of the beautiful trails of the Gatineau Park.
This year we have great snow, and trail conditions are amazing, so consider taking part (you can save on registration fees if you register before this Wednesday night - you can find more information here)! The signature event this year is the 51 km Classic Race, with a popular point-to-point format that has skiers starting in Wakefield and finishing in Gatineau. The event is the Canadian Long Distance Loppet Championship.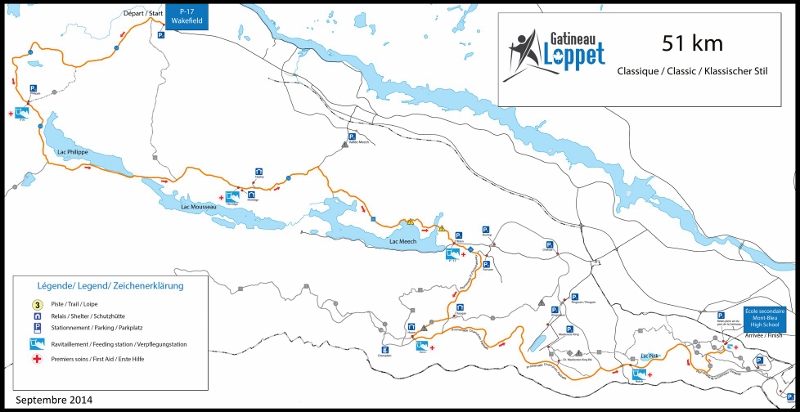 WAXING FOR LOPPETS. Well-waxed skis make a BIG difference when you are skiing long distances. You want skis that will glide well throughout, and for the classic races, you'll need a good grip that will last the distance.
Be sure to check back for XC Ottawa's take on the fastest wax for your skis.
Here are some tips to get you started . . .
XC Ottawa Athletes Racing
Although XC Ottawa athletes tend to focus on NorAm events, the Gatineau Loppet has been an important race for many of them. Here are the XC Ottawa athletes racing in the 51km classic event, and a bit of information about their previous loppet racing.
Race Goal: Enjoy the unique point-to-point course and finish strong (among top 3 women).
Best Loppet Result(s): Sheila finished 2nd in the 2014 and 2013 featured distance events, and is a regular on the Gatineau Loppet podium over the years, winning 3 events, and placing among the top 4 women 18 times.
Fun Fact: Sheila was the first inductee into the "Gatineau Loppet Legend's Path" Hall of Fame in 2013.
Race Goal: Finish among the top 3 women
Best Loppet Result(s): Ingrid raced last year's 51km skate and finished 4th among the women.
Fun Fact: Last year Ingrid showed up at the Loppet with one skate and one pursuit boot, both for the right foot. Thanks to the generosity of Peter Hamilton of Madshus, she was able to race on sampler boots (that were one size too big). This year Ingrid will definitely be triple-checking her boots before she heads to the Loppet!
Race Goal: Have fun and don't hurt too much too early!
Best Loppet Result(s): Megan won the classic 55km in 2013. She thinks that was a really good race for her and she really enjoyed the point to point course. She's looking forward to experiencing it again!
Fun Fact: Megan used to hate/dread the Gatineau Loppet (you can read about one of her earlier experiences here).
Race Goal: To complete my first 50km race, and to hold a consistent race pace throughout
Best Loppet Result(s): Katie was 2nd (U25 Women) in the 38 km Classic event in 2013.
Fun Fact: Katie has never raced longer than 38km. A good quote she plans to keep in mind heading into the race is "If you're feeling bad, keep going, it will pass. If you are feeling good, watch out because that too will pass".
KARL SAIDLA
Race Goal: Ski diagonal like Bente Skari
Best Loppet Result(s): Karl was 3rd in 2010 and 2013, 2nd in 2009, won the event in 2002, and has had many top 5 finishes.
Fun Fact: Few people realize that the 51km classic course passes the trails that access the nudist areas of Meech Lake. If you go just slow enough you can read the signs that indicate that nudism is prohibited according to Article 174 of the Criminal Code.
 Arthur has been focusing on loppet workouts since he joined XC Ottawa. He's looking forward to his first loppet of the season! 
More Gatineau Loppet Info . . .
Come Out and Cheer!
Yes, it will make a HUGE difference to loppet skiers. Bring out your cowbells!
Here are suggested cheering spots and times. 
Nutrition
Don't underestimate the importance of nutrition and hydration in athletic events! Here is some good general advice to optimize your sport nutrition. For your best race performance, you'll find good tips on what to eat the day before here, and what to eat the morning of your race here.
What you eat and drink during a long race has a huge impact on your performance too. Sports drinks are your best bet, since they will hydrate you and provide you with the carbohydrates and electrolytes your body needs. XC Ottawa athletes will be fueled by Eload for the event. The get the carbohydrates your body needs for this distance, you'll probably want to supplement a sports drink with a high carbohydrate snack or energy gels. Here is a handy calculator to determine your carbohydrate needs.
Gatineau Loppet Archives
XC Ottawa has compiled a history of the Gatineau Loppet through 2012. Have a look! Here are some highlights that might be helpful for your weekend racing . . .
Racing and Training Strategies