Silver Star!
By: Sheila Kealey
(2014/12/11)
I just got back from a week of cross country skiing at Silver Star Mountain Resort in south-central BC, and confirm (once again!) that this is the best cross-country ski holiday possible.
At this time of year, most skiers are scrambling for snow, and Silver Star has plenty of it! And with over 100 km of scenic trails, the area boasts the largest groomed trail network in the country. 
In other years, I have raced the first event of the NorAm race series at Sovereign Lake Nordic Center.  This year, the Center hosted the Sovereign Lake Open. Although the race fields were smaller than the typical NorAm event, there was still strong competition with athletes from Thunder Bay's National Development Center, the Ontario Ski team, Dartmouth College, and several other clubs. I raced in the Open Women's Category (5 km skate Saturday, and 5 km classic Sunday).
In holiday mode, I had pretty low tech/simple ski selection and waxing, and hadn't bargained on the warm temperatures that greeted us Saturday morning (0 degrees and snowing - at least it was a skate race!).  I only had skis that were good in cold snow, and didn't pack fancy glide waxes, inspired by a new trend to Low Fluro waxing for races that I hope takes hold. Despite low fluoros, the waxes I used were excellent quality and did the trick! I waxed with Vauhti Speed Purple for Glide both days (maybe not the best selection, but the warmest glide wax I had). 
I was a bit concerned about grip for Sunday's classic race,  hoping it wasn't a repeat of Saturday's weather (0 degrees and snowing is pretty tricky for classic grip, especially with a limited wax selection and skis . . . ). Sunday was still on the warm side, but thankfully it wasn't snowing, and the temperature was slightly below 0. I had perfect grip with a blend of Vauhti K-15 (violet) and K-12 (silver) - if you find yourself in tricky conditions around 0 deg - be sure to try the K-12 silver -- is a pretty amazing grip wax. I also certainly benefited from John and Jen's help testing and waxing!
I was happy to have some great opening races, placing 2nd on Saturday, and third on Sunday, with speedy Jennifer Jackson of NDC Thunder Bay winning both events. (Full results are here->skate; classic.)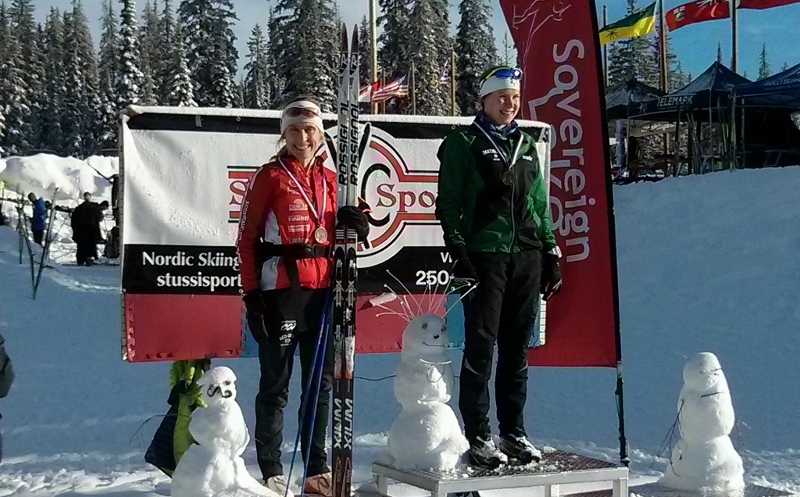 Sunday's Classic Podium with Senior Women Winner Dartmouth's Corey Stock.
All in all, it was a great vacation and a nice start to the race season!
If you're interested,  you'll find a longer report of my holiday and more Silver Star pictures here.